News & Announcements
Anthony Machine and Kennametal Team-up to Reduce Setup Times

For more than three decades, Kennametal's KM™ brand of quick-change tooling has been making machine shops more efficient. As thousands of customers will attest, KM provides shorter setup times, greater flexibility, higher levels of machine utilization, and the ability to meet the industry's increasingly stringent requirements head on.
---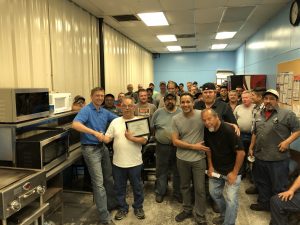 CELEBRATING 40 YEARS!
Anthony Machine recently celebrated the 40th anniversary of machinist Ricardo Santillan.  Ricardo began his tenure on July 12, 1978 when the machine shop was still owned and operated by the Anthony family. A multitude of changes have occurred since Ricardo was hired, including a change in ownership and countless technological advancements.  Ricardo's knowledge and expertise as a machinist, however, is as valued and appreciated as ever.
In addition to a celebration with the entire team and other gifts, Ricardo was honored with his very own parking space for his Harley!
Thanks to Ricardo Santillan for your 40 years of loyalty and professionalism.
---
ANTHONY MACHINE EXPANDING INTO NEW 8,000 SQ. FT. FACILITY HIGHLIGHTED BY NEWLY ACQUIRED CNC TURNING CENTER MANUFACTURING CELL
SAN ANTONIO, TX   Anthony Machine recently announced the planned buildout of its new 8,000 sq. ft. building immediately adjacent to its current production facility. And as part of this expansion, Anthony Machine has purchased additional equipment including multiple DMG Mori NLX 3000 Rigid and Precise Turning Centers. This investment represents a further expansion of its already extensive capabilities in the manufacture and re-manufacture of products serving the Energy, Transportation, Defense and Industrial sectors.    Read More
---

Anthony Machine Uses Technology to Maximize Accuracy & Efficiency
Anthony Machine has served the manufacturing industry since 1946. They are AS9100 certified and specialize in Oil & Gas, Automotive, Food, and Mining. Adapting new technologies, streamlining processes and rigorous quality control procedures have helped this precision machining company create loyal customers for over 70 years. And, they were an early adopter of MachiningCloud… Read More
---
FOR IMMEDIATE RELEASE
ANTHONY MACHINE AWARDED AS9100 CERTIFICATION
San Antonio, TX.  Anthony Machine, a precision machine shop located in San Antonio, TX, recently earned certification to the aviation industry's AS9100 quality management standard, the company said… Read More
---
FOR IMMEDIATE RELEASE
ANTHONY MACHINE CELEBRATES 70 YEARS OF PRECISION MACHINING
Management Outlines Strategy for Continued Growth
San Antonio, TX.  Anthony Machine, the largest precision machine shop in San Antonio, is kicking off a celebration of their 70th year in business. Founded by David Anthony shortly after the end of World War II, D.S. Anthony & Sons remained in the family … Read More
---
FOR IMMEDIATE RELEASE
ANTHONY MACHINE DOUBLES CAPACITY OF REMANUFACTURING LINE
New Equipment Will Handle Gate Valves up to 7″, Crosses, Tees, Adapters and Other Wellhead and Frac Tree Components
SAN ANTONIO, TX November 6, 2015.  Anthony Machine, San Antonio's largest and longest standing machine shop, announced today that its expansion investment for the remanufacture and refurbishment of oilfield equipment is now complete.  The capability will include remanufacturing of gate valves up to 7", crosses, tees, adapters and any other wellhead and frac tree components. Read More
---